Where Best To Spend Your Marketing Budget?
With Declining Newspaper Circulations, It's a Question That has Marketers Scratching Their Heads.
Is it Better to Invest in Leaflet Distribution or Newspaper Advertising?
The answer to that question doesn't have a definitive answer, but with shrinking circulations in local, regional & national press: many marketers are realising the benefits of allocating larger amounts of their advertising or marketing budgets for use on well targeted leaflet distribution. This re-directing of their clients' advertising budgets seems set to increase as circulation for newspapers & many magazines continues to fall. With advertising rates often not falling in line with reduced circulations, papers are becoming far less attractive & far less effective for many marketers & their clients.
In the not so distant past, many regional & local newspapers boasted very high levels of penetration in their core circulation areas: making them an obvious choice for many advertisers – but those days have now passed.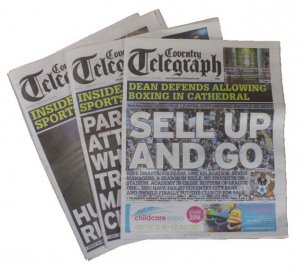 Smart business owners or the marketing professionals they employ are still keen to find good value alternative ways to place their proposition in front of potential clients: professional leaflet distribution is in many ways the answer to their prayers.
Once the poor relation, in terms of professionalism, to other mediums – leaflet distribution is experiencing an upsurge in demand – with a new type of professional direct marketing companies filling the void left by a declining newspaper industry.
Benefitting from more professional personnel at the helm (many from newspaper backgrounds, as in our case), modern leaflet distribution companies bring new levels of transparency, accountability & credibility to door to door leaflet delivery.
The benefits of a targeted direct marketing campaign over a traditional advertising campaign in a newspaper are being enjoyed by an increasing number of businesses – with often better targeting of a client's preferred audience than free newspapers & definitely kinder on budgets than 'paid for' newspapers, it's no wonder that it is increasingly on the radar of more & more small business owners, marketers in larger organisations and marketing and advertising agency executives.
With delivery costs for a leaflet on a shared delivery plan starting at just 2.5p per leaflet, with a reputable delivery company providing live GPS tracking – it's hard to deny that leaflet delivery represents extremely good value. Solus distribution at less than 7p per leaflet including a high degree of demographic targeting presents opportunities that traditional newspaper advertising never did, and is often the preference of many customers due to the improved response rates gained over a share plan option.
Whilst working closely with a professional leaflet delivery partner has the ability to generate superb results from your leaflet distribution campaign – there are unfortunately still plenty of unscrupulous distributors happy to exploit the unwary. We still hear horror stories from new clients that have been badly bitten & not had their leaflets delivered or had them distributed in completely the wrong location. It's therefore incredibly important that anybody contemplating giving direct marketing a go, takes great care in selecting the company to undertake their door to door delivery work. It always makes sense where possible to meet your distribution partner face to face to avoid being the one caught out.
Here at DEFENDA Leaflet Distribution in Coventry — we have built our business over many, many years on transparency & accurate and well targeted leaflet distribution for small, medium & multi-national businesses–building a reputation for professionalism, transparency & ultimately delivering fantastic results for our clients.
We delight in being scrutinised by clients & to help customers do so, we offer them real-time access to our individually GPS tracked distributors carrying out their campaign.
If you are still trying to decide between a leaflet delivery campaign or newspaper advertising & would like to learn more about our leaflet distribution services, mapping or available demographic data why not call us on COVENTRY 02476 465000 to discuss a campaign or to arrange visiting our offices?
Is Leaflet Delivery Really Relevant In An Online World?
The simple answer to that question is a resounding YES… Not only is it relevant now, but it becomes even more so with every day that passes.
With Google still the King of search & other search engines little more than bit players (sorry Bing & DuckDuckGo) – everybody with something to sell would love to appear at the top of Google's natural listings. Achieving those lofty heights is almost a licence to print money – well at least it is in the minds of those that aspire to it. As part of an organisation that has numerous Google firsts, we know the value of attaining such a position, & yes it definitely does provide a fantastic revenue stream. However, the competition to gain the number one position is aggressively fought over – making it often very expensive to achieve & even more expensive to maintain.
Lots of research shows that appearing outside the top three natural returns to a Google search dramatically reduces the amount of visitors your website will receive – and failing to make the first page can render a website almost useless – if not combined with more traditional marketing techniques.
Even for businesses that would be happy just to appear on Google's first page – competition is still extremely fierce. As a result the temptation is to pay for an ever more costly Adwords campaign. Depending on the bid price & the cost you pay per click (cpc or cost per click) thousands of pounds can be expended – often not cost effectively & commonly not a realistic option for many businesses.
Whilst achieving a good Google ranking is and should always be desirable: it is to a large degree reactive marketing – relying on somebody to enter a search for your product to give you any chance of making a sale.
Leaflet distribution on the other hand is pro-active & gives you the opportunity to place your sales proposition in front of clients in a highly cost effective and targeted way. It is the ideal method in many senses to support your online presence, driving traffic to your e-commerce website and ironically, in so doing, improving your Google ranking.
Here at Defenda Leaflet Distribution we have taken a traditional advertising method (leaflet distribution) & combined it with technology to provide clients with a range of demographic targeting tools & real-time customer accessible GPS tracking of each leaflet distributor assigned to their campaign.