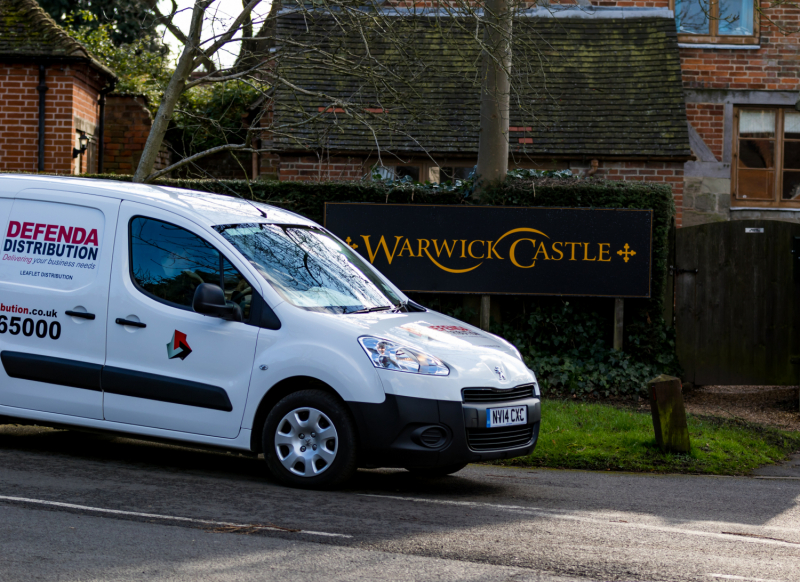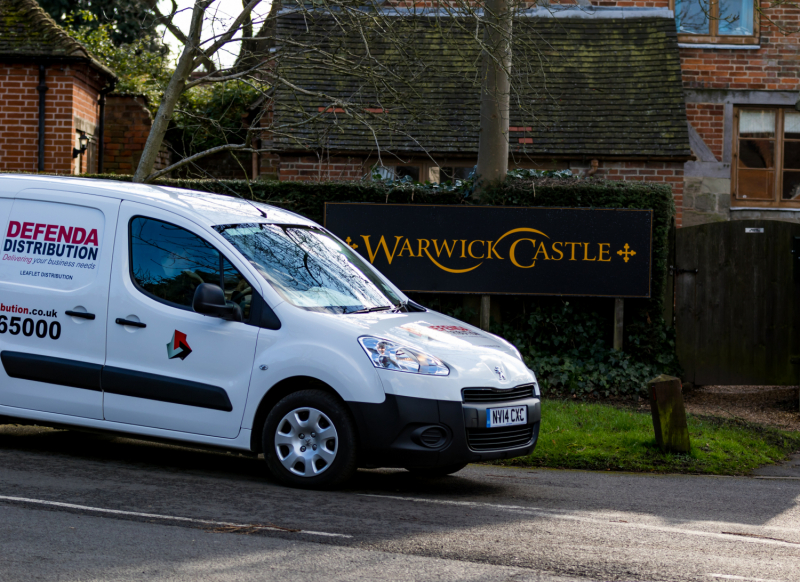 Live GPS Tracked
Leaflet Distribution in Warwick
Boost Sales With GPS Tracked Leaflet Distribution in Warwick
We Provide a Warwick Leaflet Distribution Service to Suit Every Budget.
Whether you are a local business wanting to attract new customers & boost sales with leaflet distribution in Warwick, including areas such as: Hatton Park, Old Milverton, and Hampton Magna, or a national advertiser with local stores, we provide an unbeatable range of services at excellent prices to suit your strategy.
And of course, as the first UK leaflet distribution company to introduce GPS tracked leaflet delivery — every one of our services is backed-up by our customer accessible live GPS tracking. So with real-time access to our tracking software you know exactly where and when your leaflets are being delivered.
Have a look through our price list below to find the perfect Warwick leaflet delivery service and if there is anything else you want to discuss, just give us a call or drop us an email and we will be more than happy to help.
Our Warwick Leaflet Distribution Services
&

Prices
From Just
£89.00
per thousand
From Just
£69.00
per thousand
From Just
£55.00
per thousand
From Just
£45.00
per thousand
From Just
£35.00
per thousand
Call us
P.O.A
For more info
We Can Help You Launch a Successful Leaflet Campaign in Warwick…
With more than a century of combined experience in delivering leaflets and other marketing material in and around Warwick & company origins going right back to 1996, Defenda Leaflet Distribution have a wealth of knowledge we can contribute when it comes to building successful leaflet distribution campaigns in Warwick.
We are extremely happy to, and often do – guide our clients through the entire process of their Warwick flyer & leaflet distribution campaign from start to finish and regularly assist with:
The design of their leaflet.

Identifying areas that are likely to achieve the best results (Based on detailed demographic info)

Providing property counts for the areas being covered 

Arranging the printing of the leaflets.
However, If you already have your strategy organised, we are just as happy to play a smaller role in the overall execution of your campaign and simply conduct your Warwick leaflet & flyer delivery the way you want. Taking on board your requirements and executing an extremely thorough and transparent door to door delivery service with our customer accessible GPS tracked distributors is all part of our Gold Standard service.
> Help with planning your leaflet distribution campaign
Boost Sales With Tracked Leaflet Distribution in Warwick
Solus Leaflet Distribution
Solus Leaflet Distribution Service (Warwick)
The SOLUS distribution service gives you ultimate control over your leaflet distribution campaign. You choose the exact distribution area and the timing of your campaign.
Paired with the fact that your item will also be delivered completely alone means that you won't be competing for the attention of your potential customers with any other marketing material and therefore much more likely to be noticed and stimulate a response to your offer.
This service also gives you the ability to target areas and people based on specific criteria by utilising our various sets of demographic data to ensure that your leaflets are going to the most appropriate households and greatly increasing the chances of a successful campaign.
The SOLUS service consistently achieves the highest success rates and allows you to maintain control of your leaflet distribution from start to finish. Solus leaflet delivery is a firm favourite with companies who require a precisely targeted marketing campaign.
From Just £89.00 + VAT (per thousand)
Call us now to discuss your Solus leaflet distribution campaign on 01926 963852
Supported Solus Leaflet Distribution
Supported Solus Leaflet Distribution Service (Warwick)
The Supported Solus leaflet distribution service allows you to maintain total control over your leaflet distribution area and your campaign timing in the same way the SOLUS service does.
You are still be able to plan your campaign based on specific demographics to help ensure your leaflets are reaching the right homes.
The only difference is that your leaflet can be delivered with one or two other non-competing leaflets (you decide) – which allows you to make a saving on your overall distribution price.
This service is perfect for customers who need to target specific locations, but don't need to be the only item going through the door. As your leaflet is being delivered with only one or two other pieces of marketing material, dilution of your message is kept to a minimum.
From Just £69.00 + VAT per thousand (min 5,000)
Call us now to discuss your Supported Solus leaflet distribution campaign on 01926 963852
2-Share Leaflet Distribution
The 2-Share leaflet distribution service allows you to select one of our three Warwickshire areas for your leaflets to be delivered to. (Kenilworth, Leamington or Warwick)
Your leaflet will be delivered with a maximum of one other non-competing leaflet within the chosen location, therefore minimising the dilution of your marketing message.
As you would only be sharing with one other company, you can select the exact location of at least half of the overall leaflet drop, with the other half being delivered to another part of the same area.
To view and select from our shared distribution areas, please view our Warwickshire Shared Leaflet Distribution Areas.
The 2-Share leaflet delivery service is ideal for companies and individuals who need to get their leaflets out within a general area on a smaller budget, but don't want their marketing material delivered with multiple other items.
From Just £55.00 + VAT per thousand (min 5,000)
Call us now to discuss your 2-Share leaflet distribution campaign on 01926 963852
Shared Leaflet Distribution
The Shared leaflet distribution service operates similarly to our other 2-share leaflet distribution service in terms of the area selection and the frequency of distribution runs.
The main difference being that your leaflet will be delivered with up to 3 other pieces of non-competing marketing material.
This leaflet delivery service works perfectly for clients who are looking to spread their marketing message and increase sales within a certain area, or are working to a specific budget and still wish to benefit from a professional, Live GPS tracked door to door marketing service.
To view and select your shared distribution area, please view our Warwickshire Shared Leaflet Distribution Zones.
From Just £45.00 + VAT per thousand (min 5,000)
Call us now to discuss your Shared leaflet distribution campaign on 01926 963852
Flexi-Drop Leaflet Distribution
Flexi-Drop Leaflet Distirbution Service (Warwick)
The Flexi-Drop leaflet distribution service offers a very powerful way to get your marketing message into the hands of your potential customers at an incredibly low price.
It is perfectly suited to clients that are able to be more flexible in terms of  their distribution location and the timing of their campaign. With the Flexi-Drop service, your leaflets can be delivered to any – or all of the areas that fall in to our Warwickshire Shared Leaflet Distribution Areas.
Although slightly reducing the overall control over your distribution campaign, customers who are not geographically restricted when it comes to attracting new clients and can be flexible with timings can achieve an extremely high level of coverage and still have the ability to monitor their campaign in real time with our Live GPS tracking system.
From Just £35.00 + VAT per thousand (when booking 20,000)
Or try the minimum quantity of 5,000 for just £39.00 + VAT per thousand
Call us now to discuss your Flexi-Drop leaflet distribution campaign on 01926 963852
Business-to-Business Leaflet Distribution
Business to Business (B2B)
Leaflet Distribution Service
Our B2B or business to business flyer & leaflet distribution is the perfect service for companies wishing to target other businesses with their marketing material.
As with all of our services it comes with complete GPS tracking. Something which allows you to monitor the distribution of your flyers or leaflets in real-time on your computer or mobile devices such as smart phones.
The service is available for industrial estates, trading estates & retail parks throughout the Midlands & even nationally where required.
So if you want to discuss a B2B leaflet distribution campaign in cities such as Coventry, Birmingham, Leicester, Nottingham, Derby or smaller towns like Nuneaton, Leamington, Solihull, Wolverhampton or Walsall, then why not get in touch for more information or click here.
Call us for B2B Leaflet Delivery Prices
Call us now to discuss your B2B leaflet distribution campaign on 02476 465000
Rural Leaflet Distribution Service in Warwick, Warwickshire
Warwick is another relatively affluent market town in Warwickshire, that could potentially be a very good area to target with a leaflet distribution campaign. It lies 11 miles South of the city of Coventry and just West of Leamington Spa. Its population at the last Census was 31,345 in 2011.
Population growth in recent times has led to Warwick running up to its larger neighbouring town, Leamington Spa, creating a conurbation of approximately 95,000 inhabitants. Both Warwick & Leamington Spa, along with Kenilworth and Whitnash, are now administered as part of Warwick District, headquartered in Leamington.
Suburbs of Warwick include: Cliff Hill, Bridge End, Emscote, Forbes, Myton, Packmores, The Cape, The Percy, Warwick Gates, Woodloes Park and Chase Meadow.
Warwick consists of Postcode districts CV34 and CV35, however if you are looking at conducting a specifically targeted leaflet delivery in Warwick, we can even map completely bespoke distribution areas for you, and provide you with accurate property counts.
This is a great way for you to establish how many leaflets are required to cover the areas prior to your door to door leaflet distribution and help save you money on needlessly overprinting additional leaflets.
With Defenda Leaflet Distribution you can also precisely target the smaller rural Warwickshire Villages such as: Wolverton, Norton Lindsay, Barford, Wasperton and many others.
> Find out more about our rural leaflet distribution in Warwickshire
Live GPS Tracking and Campaign Planning
As with all of our fully tracked leaflet distribution services, Defenda Leaflet Distribution provides live GPS tracking for Warwick leaflet delivery jobs & all of our other rural leaflet distribution campaigns, so you can rest safe in the knowledge that your important marketing material is being handled professionally and being delivered in line with the leaflet distribution plan that had been agreed to.
In addition to providing your Warwick flyer delivery itself, we can also help you plan a specifically targeted campaign using our various sets of demographic data to help maximise the effectiveness of the campaign by pin-pointing the best audience for your product or service.
More about our live GPS tracked service