Solus Leaflet Distribution vs Shared Leaflet Distribution
Solus v Shared Leaflet Distribution
When it comes to organising a leaflet delivery campaign you will likely be faced with making a choice between the two most popular methods of leaflet delivery: shared & solus residential leaflet distribution. This article attempts to highlight many of the differences between the two, so you can make an informed choice as to solus v shared leaflet distribution.
When attempting to decide which service is right for you, it is useful to understand the differences between the two services and the pros & cons of each in straightforward terms.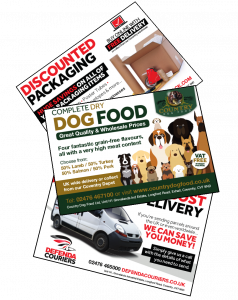 SOLUS LEAFLET DISTRIBUTION
Solus leaflet distribution is the service that gives you complete control over your leaflet delivery campaign.
Choosing the area
With a good leaflet distribution partner you get to choose the exact area that you want to target with your sales message. Your chosen distribution provider should be able to help you identify the right areas to cover in order to achieve the best results, based on detailed demographic data they hold. This will ensure your leaflets are going through the letterboxes of people most likely to respond to your offering. The demographic data your leaflet distribution company should be able to provide as an absolute minimum should include things like: wealth, age, homeownership levels, rented accommodation levels, education & ethnicity. Even this basic demographic data will help you maximise response rates & increase your sales conversions dramatically. Solus leaflet distribution will also allow you to target affluent rural locations, with high disposable income levels, that rarely receive any leaflets through their doors.
Choosing the timing
Solus leaflet distribution should allow you to choose the exact timing of your leaflet distribution — which is perfect for publicising events or promotions where advertising them too early or too late could have a major impact on the effectiveness of the leaflet drop.
Pinpoint timing can quite literally produce a mass of hot sales leads. When it comes to solus leaflet delivery, larger leaflet distributors will be able to hold leaflets in readiness for the right weather conditions for a client's product or service and put their flyers out very quickly with minimal notice to enable the customer to capitalise on hot or even cold weather.
We recently worked with an air conditioning company on a campaign where all the demographic & geographic planning work to identify the right area, for what was an expensive item, was done long in advance. We then held the leaflets & got the go ahead to deliver them in the middle of a heatwave. The results were understandably breathtaking & the client was delighted with the results. The same principles are also applied for those where cold weather can help boost sales. Heating engineers etc can benefit from our short distribution lead times and take advantage of cold snaps to boost response rates.
Choosing the cost
Although the cost per thousand leaflets delivered on a solus delivery is substantially higher than for a shared or shareplan leaflet distribution campaign: the ability to target your preferred audience far more precisely means you can often achieve extremely high response rates from far fewer leaflets. Unlike shared leaflet distribution, a solus service is often available with no minimum quantity, so you can effectively choose the cost. The price of delivering solus or single leaflets will ultimately be determined by the housing density or rurality of the area you want covered. But as a guide solus distribution from a reputable company should start at about £85 plus vat per thousand. Make sure with any service you choose to ensure you get fully accessible GPS tracking. Check our GPS GUIDE HERE
SHARED or SHAREPLAN LEAFLET DISTRIBUTION
Shared leaflet distribution doesn't offer the same control over your campaign as solus delivery because you will be sharing the delivery with ideally up to no more than three other non-competing leaflets (check the policy of the company you plan to work with).
Choosing the area
Although with shared leaflet distribution you will have far less control over the areas where your leaflets go than with a solus service — if you choose to work with a good quality leaflet distributor, that has been established for a while, then there should be sufficient regular routes for you to choose from. You will generally find that you are restricted to urban areas with a shareplan: such as the suburbs of cities or towns with the higher percentages of home ownership & reasonable levels of disposable income. The reason for this is fairly obvious, most leaflets being delivered are attempting to sell a product or service and those paying for the delivery are not usually interested in promoting their goods to the more impoverished areas of our cities. If you are a local authority or another organisation wanting to engage with those living in poorer districts then you may need to consider a solus service.
Choosing the timing
The timing of your distribution will be set by the regularity that the distribution company runs shared deliveries in the routes that interest you. If you are very lucky they will have sufficient clients to justify weekly deliveries, but you may be faced with fortnightly or monthly services. Perhaps even longer.
Choosing the cost
The cost of a four share distribution with a decent leaflet distribution company will start at about £35 + vat per thousand for fairly densely housed areas — but will most likely be higher for more affluent routes where longer drives & distance between houses will reduce the efficiency of the leaflet distributors. You will generally be faced with a minimum quantity of 5000 leaflets. Be vary wary of any organisation offering a standard shared leaflet distribution service at rates lower than this. Our own flexi-drop service at £25 per thousand is a filler service that helps us mitigate the impact of a client's printer failing to meet a deadline, it is not a normal shared distribution price. As with solus leaflet delivery, always make sure you receive customer accessible GPS tracking. Check our GPS tracking guide here
Shared Leaflet Distribution v Solus Leaflet Distribution Response Rates
It is widely accepted within the industry that solus distribution will elicit the greater number of responses from an unaddressed door drop — and that is borne out by our own extensive experience — gained through delivering leaflets since 1996 on both solus & shared services. The generally higher costs of putting leaflets out on a solus basis may or may not be justified by the improved responses: it may well boil down to what it is that you're promoting as to which option is best for you. Many of our customers alternate between both services and achieve extremely good results by doing so.
If you would like more information on either solus or shared leaflet distribution, feel free to call us on 02476 465000 or email us
Direct mail mailshots & B2B leaflet distribution can also be handled effectively from our Coventry base wherever you are in the country.
Check out our other leaflet & flyer delivery services here. Leaflet design & printing can also be provided at incredibly low prices.
https://www.defendaleafletdistribution.co.uk/wp-content/uploads/2020/02/Leaflet-Stack-e1621508236380.png
800
634
Daniel Clark
https://www.defendaleafletdistribution.co.uk/wp-content/uploads/2020/01/IMG_0676-1-300x129.png
Daniel Clark
2021-08-13 12:59:06
2021-08-13 13:27:47
Solus Leaflet Distribution vs Shared Leaflet Distribution