Perfecting the Art of Leaflet Distribution…
Perfecting the Art of Leaflet Distribution to Improve Performance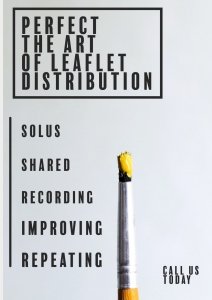 Of course a well designed eye catching leaflet or flyer is very important, but there is more to the art of delivering leaflets than just the leaflet itself.
If you are new to leaflet distribution then it's imperative you choose a leaflet distribution company that will help you identify the right area & audience for your product or service using geodemographic profiling which will get you off to the very best start.
Leaflet distribution campaigns will naturally vary in their rates of success, largely determined by leaflet design, product or service offering, area & timing. It is therefore very important that before your leaflets hit letterboxes you are prepared to measure results in order to improve strategies for future leaflet drops.
Depending on the size of your company it may be possible to put things in place to help measure responses:
Dedicated telephone numbers 
if you can, set up telephone numbers which are only printed on the leaflets. Local numbers are ideal for this along with freephone 0800 numbers. Some non-geographic numbers are still viewed with suspicion that they are premium rate and are therefore best avoided.
Promotional discount codes 
Always print a discount code on your leaflets which if dated will support any other call to action on your flyer but also massively help in the analysis of your campaign's effectiveness. Customers calling up & quoting the code can be registered by your own staff or those in a call centre if you've outsourced call handling. When the discount code is used on your website you will have captured important information that can help inform for future leaflet door drops. If you haven't included a discount code on your leaflet and only your website address — then Google analytics or another website monitor can track spikes in traffic to help asses the response rates. Speak to your website developer if you're unsure what measuring is in place for website visitors.
Asking is learning, so make sure whoever is answering incoming calls is asking how you were found.
Learn from experience
Making the assumption you will be running a campaign, it's important you learn from the data collected during your previous leaflet drops to improve future performance. The more flyer drops you undertake the more effective they will become as you perfect the art of leaflet distribution. Over a sustained period you will glean information on when, where & who to target for the best results.
Over time you will have identified factors impacting the effectiveness of your direct marketing activity & from that you can judge when it's best to distribute your leaflets & flyers
Target audience
Are you targeting the best audience to maximise responses in terms of age, income, home-ownership status, average house value & eduction? Can your demographic targeting be improved?
Geography/location
Do particular areas perform better than others in terms of pure responses? Do certain areas produce more profitable & therefore more desirable business than others?
Time of the month
Some areas may need to be targeted based on when potential clients receive their pay. Though this is a less important consideration in areas containing people with high levels of disposable income.
Time of year
Things such as Christmas, Valentine's Day or other cultural & religious events may have a positive or a negative impact on your leaflet advertising results, depending on what it is you are advertising.
Weather/seasonality
If your products and services are impacted by weather, are you planning campaigns early enough to take advantage of seasonal weather changes. Better still, are you working with a leaflet distribution partner that can respond ultra quickly to extreme weather such as heatwaves or snow & help you capitalise on the opportunities presented. Understandably air conditioning flyers work extremely well when distributed in the middle of a heatwave.
ROI Return On Investment
Paying close attention to all the factors that affect response rates will inevitably further improve your leafleting & improve your return on investment for what is already an extremely cost effective advertising method.
It is however very important to partner with a reputable leaflet distributor to ensure your leaflets are being delivered accurately. The best way to do that is to make sure you have live access to GPS tracking.
See our guide on GPS tracked leaflet & flyer delivery here.
Defenda Leaflet Distribution is a trading name of Defenda Marketing Services Ltd
Although we are headquartered in Coventry, we have offices across the Midlands & provide weekly & monthly leaflet delivery services in Birmingham, Leicester, Nuneaton, Warwick, Leamington, Kenilworth, Rugby and solus leaflet distribution to any mainland U.K. city, town or village that clients require.
https://www.defendaleafletdistribution.co.uk/wp-content/uploads/2021/08/perfecting-the-art-of-leaflet-distribution.jpg
1414
1000
Daniel Clark
https://www.defendaleafletdistribution.co.uk/wp-content/uploads/2020/01/IMG_0676-1-300x129.png
Daniel Clark
2021-08-12 16:24:10
2021-08-17 12:22:59
Perfecting the Art of Leaflet Distribution…