Beware of Internet Leaflet Delivery Brokers & Avoid the Headache of a Derailed Campaign…
Beware of Internet Leaflet Delivery Brokers & Avoid the Headache of a Derailed Campaign
A quick Google search will reveal countless websites' of 'organisations' professing to be leaflet distribution companies prepared to deliver your leaflets professionally wherever in the country you want them delivered. In reality they are simply 'leaflet delivery brokers' — often just one person operating from a spare bedroom with some IT skills.
Once they receive an enquiry from an unsuspecting client they will email or phone distributors to secure the very lowest price in the area where the distribution is required. They will then place the job with the lowest quoting distributor with absolutely no vetting of the distribution company they've engaged.
A Disaster Waiting & Waiting To Happen
In an industry that is already plagued with too many rogue distribution companies: the last thing it needs is another layer of people, like many of these leaflet brokers, attempting to make a 'quick buck' without putting in any real work or investment — still further damaging an industry's reputation that when run well has the ability to deliver dynamic results for advertisers of all sizes.
With the proliferation of these online leaflet brokers, we are increasingly being asked by desperate businesses to rescue their leaflets from the hands of so called leaflet distribution companies all across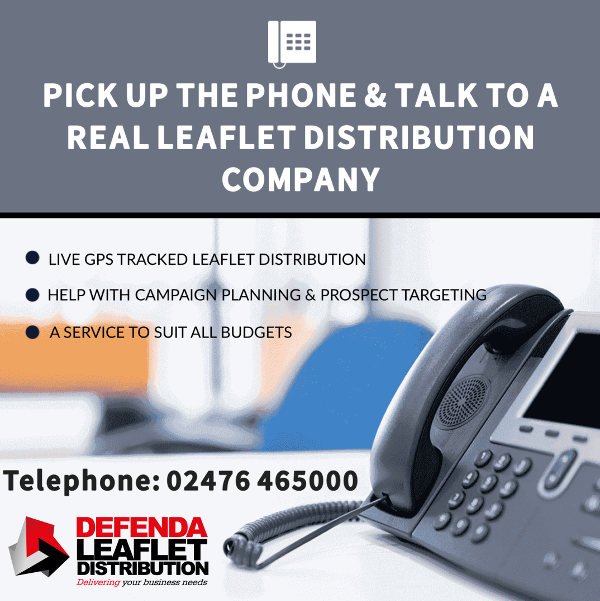 the Midlands — after one of these 'leaflet brokers' has placed their distribution work with a completely inappropriate distributor.
Often a client will have been waiting & waiting for their distribution to begin & then starts to panic as an absolute delivery deadline for their leaflets or flyers approaches, with still no sign of the distribution of their leaflets commencing. We are talking about substantial delays here. Not just the impact a few days of bad weather can have on distribution timings,
Facing the disaster of a derailed campaign, the client is forced to do what should really have been done from the outset — seek out a bona fide leaflet delivery company rather than a broker or agent.
An Eleventh Hour Solution
With about 20 vehicles at our disposal, we can usually help retrieve a client's leaflets quickly by diverting one of our vans into a non-performing distributor to collect them — even when the client has left things to the eleventh hour before asking us to help. It is however far, far better to avoid the pitfalls of using online leaflet brokers & poor quality distributors from the start.
Whether you choose to work with an organisation that prides itself on its transparency like Defenda Leaflet Distribution, who will map & help you demographically target areas containing the best prospects for your offering — and also importantly provide you with live access to our GPS tracking to monitor your delivery in real-time, or another organisation of your choosing—always make sure you are working wherever possible with a quality professional leaflet distribution partner that gives you live access to their GPS tracking system so you can watch your delivery happening in real-time.
You may also find it useful to read our guide on GPS tracked leaflet distribution…as all tracked leaflet distribution is far from being equal.
Defenda Leaflet Distribution is a trading name of Defenda Marketing Services Ltd
Although we are headquartered in Coventry, we have offices across the Midlands & provide weekly & monthly leaflet delivery services in Birmingham, Leicester, Nuneaton, Warwick, Leamington, Kenilworth, Rugby and solus leaflet distribution to any mainland U.K. city, town or village that clients require.
https://www.defendaleafletdistribution.co.uk/wp-content/uploads/2021/06/leaflet-distribution-brokers-ad.jpg
601
600
Daniel Clark
https://www.defendaleafletdistribution.co.uk/wp-content/uploads/2020/01/IMG_0676-1-300x129.png
Daniel Clark
2021-06-21 17:18:23
2021-07-01 12:10:22
Beware of Internet Leaflet Delivery Brokers & Avoid the Headache of a Derailed Campaign…